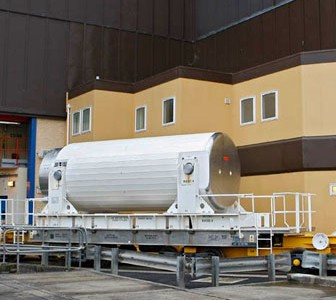 A key milestone in the first return of solid highly active waste (HAW)
from the Sellafield site to overseas customers has been achieved with
the loading of canisters into a flask, and the transport of the flask
from the Residue Export Facility (REF) to the Flask Marshalling Area on
the Sellafield site.
This completes the on-site preparations for the first return of
canisters of HAW and hands over the operations to the transport phase of
the programme.
REF, which checks and loads canisters of HAW into flasks prior to its
shipment, started active commissioning in 2008 when radioactive
inventory was introduced into the facility in a phased and controlled
manner. Recently the REF team, working with International Nuclear
Services (INS) completed the inspections and loading of canisters into
the first flask to be returned to overseas customers.
The Vitrified Residue Return (VRR) programme encompasses all the
necessary infrastructure and operations to effect the return of solid
highly active waste to overseas customers, and both Sellafield Ltd and
International Nuclear Services are playing major roles in these returns.
The plan is the first return of HAW by March 2010 and Mike Johnson,
Executive Director Waste & Effluent Disposition said: "Everyone involved
has played their part in successfully transitioning the VRR programme
from the infrastructure phase into the operational part of the schedule,
overcoming a number of challenges along the way. My gratitude goes to
those who have put this programme in place and enabled the successful
delivery to this stage. This is a major achievement in the repatriation
of highly active waste.
The first repatriation of waste is destined for Japan, and this will be
a significant milestone in safely delivering on the NDA contract
obligations to overseas customers."
VRR Programme manager John Brocklebank added: "This is a major
achievement as the canisters and the flask have been checked and
accepted by Sellafield Ltd, the customer, regulators and the customer's
specialist representatives. We have completed all the necessary steps to
ensure a quality return."
For more information contact Sellafield Ltd's press office:
Ben Todd
01925 834431/ 07738 039640