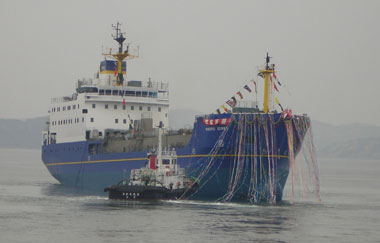 The official launch of a new INF 3 class vessel, the Pacific Egret, for the Pacific Nuclear Transport Limited (PNTL) fleet took place today in Japan.
Japanese shipbuilders Mitsui Engineering and Shipbuilding Co., Ltd, is currently building the Pacific Egret at Tamano shipyard, where the launch by sliding the vessel, stern first, down the slipway took place in front of a number of senior European and Japanese industry representatives.
The Pacific Egret was then towed to an outfitting berth where the vessel will be completed with delivery to PNTL in Japan expected in June 2010. Pacific Egret is due in her home port of Barrow-in-Furness, Cumbria later this year.
Managing Director of International Nuclear Services Mark Jervis, said: "The launch event is a significant milestone in the process of renewing the PNTL fleet for the 21st century.
"Mitsui and International Nuclear Services successfully managed the build of the Pacific Heron that was delivered in 2008, and we are progressing well with the outfitting of this latest vessel for the PNTL fleet.
"The Pacific Egret forms part of an ongoing commitment to provide a dedicated specialist nuclear transport operation. The PNTL fleet has an exemplary record with over five million miles travelled without any incident resulting in the release of radioactivity. The new ship will enhance and extend our capability even further."
The Pacific Egret will ensure that suitable vessels are available to carry out any future transports of nuclear material between Europe and Japan.
For more information contact:
Sellafield Stakeholder Relations
Steve Barnes
+44 (0)1925 833249
Ben Todd
+44 (0) 1925 834431
About PNTL
Pacific Nuclear Transport Limited (PNTL) is the world's most experienced shipper of nuclear cargoes. Its ships are dedicated to the transportation of nuclear material that is classified by the International Maritime Organization (IMO) of the United Nations at its highest level of Class INF 3. The INF Code regulates shipments by sea of used (spent) fuel, plutonium and highly radioactive waste.
PNTL has successfully completed over 170 nuclear shipments over the last 30 years. In each case, the nuclear material is shipped in specially designed packages known as casks or flasks.
The ships have safely covered more than five million miles and there has never been a single incident resulting in the release of radioactivity. Over 2,000 casks of nuclear material have been safely transported by PNTL.
PNTL operates as a subsidiary company of International Nuclear Services and its fleet is managed by James Fisher and Sons plc of Barrow, England, one of the United Kingdom's leading providers of marine services. PNTL is owned by International Nuclear Services, Areva and Japanese nuclear companies.
About International Nuclear Services
International Nuclear Services is the customer interface to over 20 nuclear utility customers worldwide for irradiated fuel reprocessing, MOX fuel supply and related services.
INS also perform the transport of nuclear materials globally, on behalf of its customers. To enable INS to successfully achieve this, it has around 140 staff with offices and facilities in the UK, France, Germany and Japan.
INS has over 40 years experience of providing irradiated fuel services from the Sellafield site and during this time the company has successfully transported over 2000 nuclear casks.