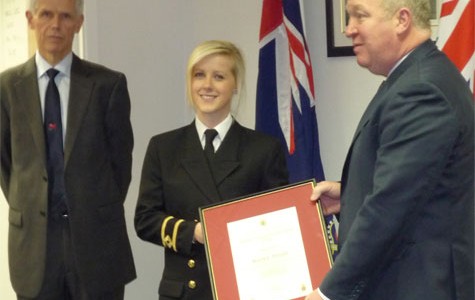 A former cadet from the world's leading global nuclear materials
transporter, Pacific Nuclear Transport Ltd (PNTL), has today been named the
Maritime and Coastguard Agency (MCA) Officer Trainee of the Year 2010.
Karley Smith, 22, from Poulton-Le Fylde, joined PNTL as a cadet after her
A-Levels and took part in a three year training programme, which included
deep sea voyages. Having gained her Officer of the Watch qualification and
a foundation degree with PNTL, she has since progressed to Liverpool John
Moores University to complete her nautical studies.
She was presented with a plaque at a reception today hosted by Shipping
Minister, Mike Penning at Great Minster House in London.
Alastair Brown, Director and General Manager of PNTL, who was present at
the ceremony, said: "PNTL invests in the highest quality training and
development for new and existing crew. We have a programme of cadetships to
ensure that we attract the brightest young talent and set them up for a
great career in the shipping industry. Karley is a great example of the
kind of high performance cadets that we seek."
Sir Alan Massey, Chief Executive of the MCA, said: "The judging panel
members were impressed by her achievements and in particular her
self-motivation to proactively improve her learning, her voluntary work in
promoting the industry and her dedication and determination in pursuing her
chosen career in the Merchant Navy."
PNTL, which is based in Barrow-in-Furness, has been transporting nuclear
materials, including spent fuel, radioactive waste and mixed oxide fuel,
for more than 40 years without any incident involving the release of
radioactivity.
ENDS
Picture shows (L-R); Sir Alan Massey, Karley Smith and Mike Penning
Ben Todd
External Communications Manager
International Nuclear Services
T: 01925 832655
M: 07738 039640