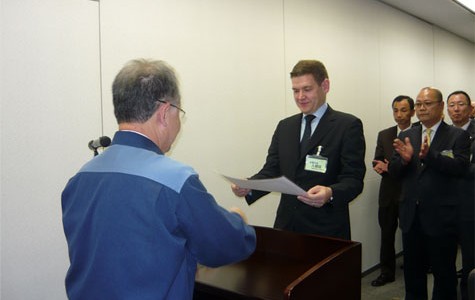 Mark Crowther President of INS Japan recently attended a presentation ceremony at Kansai Electric Power Company's Nuclear Power Headquarters in Mihama, to be awarded a Certificate of Commendation on behalf of International Nuclear Services (INS) and Pacific Nuclear Transport Ltd (PNTL), a subsidiary of INS. The award was presented for invaluable contributions to Kansai in the safe delivery of MOX fuel to the Takahama power plant during summer 2010.
At the ceremony, attended by around 100 people, Mr Toyomatsu, Kansai Electric's Chief Operating Officer and Managing Director, thanked INS for its proactive approach and strong sense of commitment to the delivery and stated that the INS/PNTL approach should be held up as a model for others to follow.
Kansai also presented INS with an encased traditional commemorative doll, made in Fukui Prefecture, as a token of their appreciation.
A translation of the certificate reads:
Certificate of Commendation
To International Nuclear Services
INS has contributed significantly to implementation of the Pluthermal programme, one of the most important targets in Kansai EPC, through the smooth transport of MOX fuel from Europe to Japan over two months, carried out with a high level of technical capability and strong commitment.
This was achieved thanks to a positive, proactive approach to daily operations in INS and a strong sense of responsibility, setting a model for others to follow. To honour this achievement, Kansai presents this Certificate of Commendation in expression of our sincere appreciation.
Hideki Toyomatsu COO & Managing Director
Nuclear Power Division
The Kansai Electric Power Company, Inc.
INS is very honoured to receive the Certificate of Commendation from Kansai Electric and will strive to maintain the level of effort and performance for its customers which resulted in the receipt of this award.