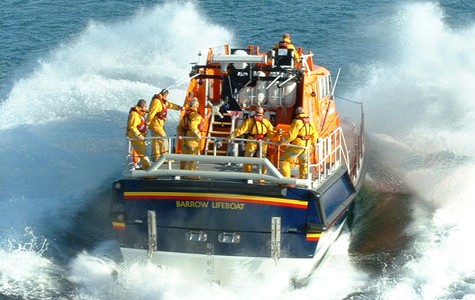 Volunteer crew from the RNLI's Barrow station were recently given a huge boost to their lifejacket appeal when Pacific Nuclear Transport Limited (PNTL) employees donated £2,500 which enabled the lifesaving equipment to be bought.
PNTL, a subsidiary of International Nuclear Services is based in Barrow, providing worldwide transport services to the nuclear industry. When PNTL heard of the appeal to help provide lifesaving equipment for the volunteer crew at the RNLI Barrow station, they came forward and made a donation. Captain Aidan Howlett, Master of the PNTL ship 'Pacific Heron', yesterday attended Barrow Lifeboat station and examined the new lifejackets worn by Coxswain Shaun Charnley and his crew.
The new lifejackets are specifically designed for use in search and rescue, being inflated automatically when immersed in water, but also capable of being manually inflated. They allow a much greater freedom of movement for the crew whilst rescuing people at sea and are fitted with water activated emergency lights and integral pockets for day and night distress flares along with other pockets for casualty care kit, torches, gloves and knives.
John Falvey, Barrow Lifeboat spokesman said, "As the RNLI relies solely on donations from the public and organisations for its income, the cost to replace all of the lifejackets throughout the service was an enormous burden on our resources. We are hugely grateful to everyone who donated to this appeal, especially Aidan and all of the employees of PNTL for thinking of the RNLI's Barrow lifeboat when it came to donating this amount of money to a charity."
Notes to editors
Barrow lifeboat station has been operating since 1864. To learn more about the lifeboat station go to www.rnli.org.uk/barrow
RNLI contacts …For more information please telephone John Falvey, RNLI Lifeboat Press Officer at Barrow on 0781–5691128, or Alison Levett, Media Relations Manager for North Division on 01642-750585, or mobile 07786-668912, or online at alev[email protected] or contact RNLI Public Relations on 01202 336789
RNLI online
For more information on the RNLI please visit www.rnli.org.uk. News releases and other media resources, including RSS feeds, downloadable photos and video, are available at the RNLI Press Centre www.rnli.org.uk/press
Key facts about the RNLI
The RNLI charity saves lives at sea. Its volunteers provide a 24-hour search and rescue service around the United Kingdom and Republic of Ireland coasts. The RNLI operates over 230 lifeboat stations in the UK and Ireland and has more than 100 lifeguard units on beaches around the UK. The RNLI is independent of Coastguard and government and depends on voluntary donations and legacies to maintain its rescue service. Since the RNLI was founded in 1824 its lifeboat crews and lifeguards have saved over 137,000 lives.
A charity registered in England and Wales (209603) and Scotland (SCO37736). Charity number CHY 2678 in the Republic of Ireland.