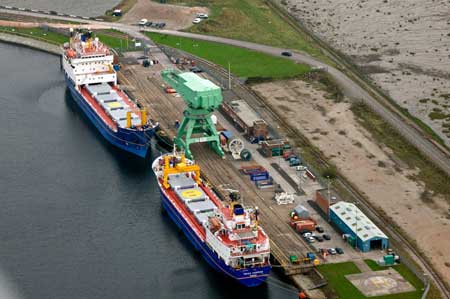 International Nuclear Services (INS), the world's leading shipper of nuclear materials, has named Serco Limited as its new ship manager for its fleet of specialist nuclear cargo vessels.
The announcement follows a competitive tender process for the four year contract, which has a total value of approximately £3m. INS and Serco signed the contract today.
Serco Limited, part of the British FTSE 100-listed Serco Group plc, has extensive experience in the nuclear industry and will establish a base in Barrow-in-Furness, from which it will manage the contract. It will now enter a handover period with the incumbent James Fisher Shipping Services, before beginning its full contract scope from April 2012.
Mark Jervis, managing director of International Nuclear Services, said: "This decision represents a continuation of INS and PNTL's thirty-plus year history in Cumbria and is a symbol of our strong and continuing commitment to the Barrow community in particular.
"We are very grateful to James Fisher Shipping Services for the ship management services they have provided to INS and our predecessor companies since the 1960's. We are also pleased that Serco will now establish a new base in Barrow.
"Our work is about safely transporting nuclear materials by sea and we remain grateful and respectful of the Barrow community's support for this and believe the arrival of Serco in the town will have a positive impact."
INS is a wholly-owned subsidiary of the Nuclear Decommissioning Authority (NDA) and is a majority shareholder of Pacific Nuclear Transport Ltd, which has been operating out of Barrow-in-Furness for more than thirty years. The ship management contract covers three PNTL vessels, as well as two vessels owned directly by NDA.