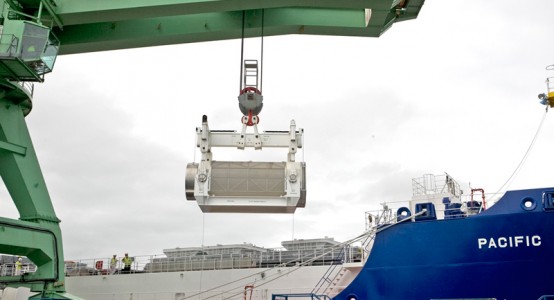 International Nuclear Services and its subsidiary Pacific Nuclear Transport Limited are making preparations to ship highly active waste (HAW) from Sellafield to Japan in 2013.
This will be the 15th such shipment from Europe and the third from the UK and will be carried out in partnership with Sellafield Ltd. The transport from Sellafield is part of a programme that will see the delivery of UK government policy to repatriate overseas waste; the fulfilment of contractual obligations; and the reduction of hazards at Sellafield site.
In order to comply with security regulations and agreements on information disclosure, we will release the following information around the time of the transport:
The name of the ship to be used will be released a few days before departure from the UK
The name of UK port and date of departure, transport route and the approximate arrival timing in Japan will be released just after departure from the UK
A notification of the transport's completion will be made after the cargo's arrival at its final destination in the facility of Japan Nuclear Fuel Limited
 The HAW will be transported in a way that is tried and tested and safe and secure.
The waste itself is in a solid glass form inside stainless steel canisters, up to 28 of which sit within a very robust transport flask. This method of transporting waste complies with all international and national guidelines and regulations.
INS and PNTL have flawless nuclear safety and security records stretching back 40 years and the delivery of this upcoming transport will apply the same high standards as all the others we undertake.