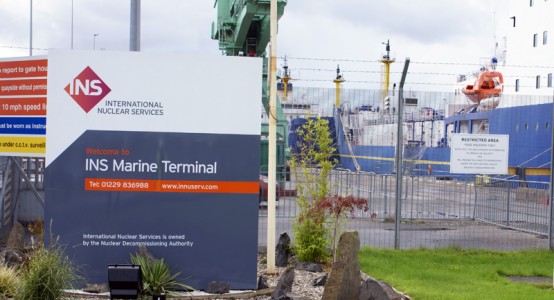 International Nuclear Services (INS) and its subsidiary, Pacific Nuclear Transport Limited (PNTL), have received full regulatory consent to continue their maritime and port operations from the Maritime and Coastguard Agency (MCA).
 The MCA consent follows the appointment of a new ship manager, SERCO Marine Services (INS) Ltd in 2012, a subsidiary company set up by SERCO Ltd to manage the INS and PNTL fleet.
 It was approved initially by MCA with an interim license pending a full audit, which has now been completed and a Document of Compliance issued to SERCO Marine Services (INS) Ltd.
 In addition, all five INS and PNTL vessels have been certified by the MCA to the International Ship Management and International Ship and Port Security standards.
 All certifications are valid for five years and are subject to regular inspections.
 Matt Fox, head of transport operations for INS and general manager of PNTL, said: "The change in ship manager and the subsequent audit process has been a very valuable exercise in double checking and solidifying the high standards that we all work so hard to achieve and I'm extremely grateful to my team, PNTL and Serco Ltd for demonstrating such commitment to this critical approval process.
 "Independent regulatory approval of the way in which INS and PTNL operate is critical to maintaining stakeholder confidence, which is something we never take for granted and work extremely hard to maintain."
 INS operates the Oceanic Pintail (INF3*) and the Atlantic Osprey (INF2); and PNTL operates the Pacific Grebe, Pacific Heron and Pacific Egret, all INF3 vessels based in Barrow, which has been the home to this fleet for more than 40 years.
 *see editor's notes for explanation
  For more details, please contact Ben Todd at INS:
 T: 01925 832655
M: 07738 039640
Editor's notes
INS is the world's leading global transporter of nuclear materials and has a world class safety record with more than 40 years and five million miles travelled without any incident involving the release of radioactivity
INS is a wholly-owned subsidiary of the UK Government's Nuclear Decommissioning Authority (NDA)
INS has two roles:

it provides package design, licensing and nuclear transport services to the global specialist nuclear transport market
it manages efficiently existing fuel cycle contracts on behalf of NDA relating to commercial services provided at Sellafield and Dounreay sites
INS is the majority shareholder in Pacific Nuclear Transport Ltd, whose other shareholders includeArevaNCand Japanese electric power companies and trading companies.
INS employs around 145 people and has offices inWarringtonand West Cumbria in theUK, as well as inGermany,FranceandJapan. Barrow Marine Terminal has been the homeportofPNTLsince 1969
The PNTL fleet currently consists of the Pacific Heron, Pacific Egret, and Pacific Grebe, all of which are classed by the Maritime and Coastguard Agency as INF3 vessels
INS also operates an NDA vessel called Oceanic Pintail, an INF3 vessel. It also operates the Atlantic Osprey, which is a multi-purpose cargo carrier and is classed as an INF2 vessel, which means it is licensed to carry smaller quantities of nuclear materials
The INF code is the international code for the safe carriage of packaged Irradiated Nuclear Fuel, plutonium, and high-level radioactive waste on board ships. It defines three classes of ships, depending on the total radioactivity of cargo which is carried on board:

INF 1 ship: Ships which are certified to carry INF cargo with an aggregate activity less than 4×103 TBq (TeraBecquerel = measurement of radioactivity).
INF 2 ship: Ships which are certified to carry irradiated nuclear fuel or high-level radioactive wastes with an aggregate activity less than 2×106 TBq and ,ships which are certified to carry plutonium with an aggregate activity less than 2×105 TBq.
INF 3 ship: Ships which are certified to carry irradiated nuclear fuel or high-level radioactive wastes and ships which are certified to carry plutonium with no restriction of the maximum aggregate activity of the materials.