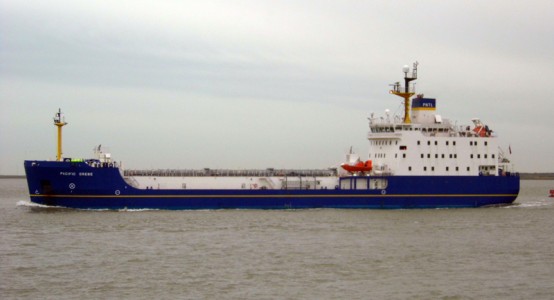 International Nuclear Services, its subsidiary Pacific Nuclear Transport Limited and Sellafield Ltd have successfully completed the largest shipment so far in a decade-long programme to repatriate highly active waste to Japan from the UK. 
The vessel, Pacific Grebe, arrived in Japan on 22nd April, 2014, having travelled via the Cape of Good Hope and the south-western Pacific Ocean.
 The 132 canisters of waste, contained in the five transport flasks, were unloaded at the port of Mutsu-Ogawara, from where they were transported by road to Japan Nuclear Fuel Ltd's storage facility at Rokkasho-Mura. Each transport flask will undergo a series of tests prior to the canisters being removed to be placed in storage.
 This was the fourth and largest such shipment from the UK demonstrating excellent progress in the programme to return foreign-owned waste stored in the UK to its country of origin. Overall it was the sixteenth shipment of its type from Europe to Japan since 1995.
 Five transport flasks containing a total of 132 canisters were transported by rail from Sellafield to Barrow-in-Furness where they were loaded onto the Pacific Grebe for shipment to Japan.
 Mark Jervis, INS managing director, said: "I would like to thank the Barrow community for its support for our safe operations and also our transport partners and customers for their hard work and co-operation in making this shipment such a success.
 "This method of transporting radioactive waste is safe, secure and tried and tested. We know that with meticulous planning and close working with Sellafield Ltd that we can continue to deliver progress in this long-term programme."
 The programme is called the Vitrified Residue Returns, a key component of the Nuclear Decommissioning Authority's strategy to clean up the Sellafield site, fulfil contracts with overseas customers and deliver UK Government policy.