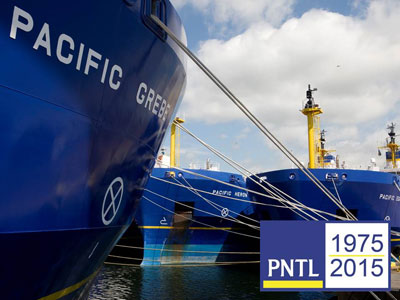 Pacific Nuclear Transport Limited is celebrating 40 years of safe and secure shipping this week.
Since it was established in 1975 in conjunction with Japanese and French partners, PNTL has successfully completed more than 180 shipments around the world from its home port in Barrow, Cumbria, cementing its position as the world's most experienced shipper of nuclear materials.
In that time PNTL's eight ships have clocked up more than 5 million miles of sailing, safely transporting more than 2000 casks of nuclear material without a single incident resulting in the release of radioactivity.
PNTL currently has three ships dedicated to the transportation of nuclear material, and recently completed a successful fifth shipment of highly active waste from the UK to Japan aboard the Pacific Grebe.
View our infographic on PNTL's 40 years of achievements
The company is owned by International Nuclear Services Ltd (INS), AREVA and Japanese nuclear companies, and operates as a subsidiary company of INS, which is owned by the UK's Nuclear Decommissioning Authority (NDA).
More recently, PNTL vessels have been used to support US-led nonproliferation efforts aimed at reducing, consolidating and securing nuclear and radiological material around the world.
John Clarke, Chairman of PNTL and Chief Executive of the NDA, said: "It's a really special day for Pacific Nuclear Transport Limited. By carrying out 40 years of safe and secure shipments we've established ourselves as world leaders at transporting nuclear materials by sea. Most importantly we're immensely proud of our flawless nuclear safety record."
Mark Jervis, managing director of INS and a PNTL director, said: "In 40 years PNTL has gone from strength to strength and we are now recognised globally for our expertise. I would like to thank all of PNTL's crew members over the years, and our partners and customers for their support in making PNTL such a success."
"I'd also like to thank the Barrow community for their continued support for our safe operations. We're proud to call Barrow our home port and we look forward to being here for many years to come."