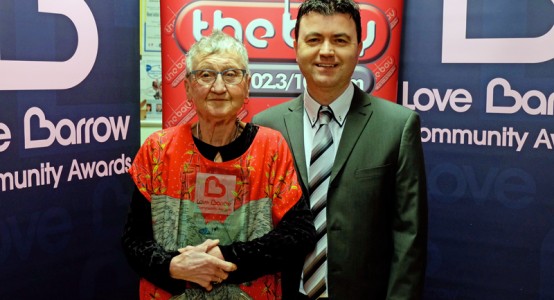 INS was delighted to play an active role in the Love Barrow Awards by sponsoring the Environment award.
The awards which have been running for a number of years were held in the Forum Theatre in Barrow, and winners, nominees and guests were treated to an evening of celebration for those who have dedicated themselves to the future of their community.
There were 12 categories of awards and the nominees and winners were voted for by the people of Barrow.
INS Marine Terminal Manager, Rob Wood, presented the Environment Award to Pat Denny who was nominated for the selfless dedication she has shown to wildlife, in particular to birds. She has transformed her home into a wildlife rehab where she nurses injured and sick birds back to health before being released back into the wild.
With 40 years of being a part of the Barrow community, INS is grateful for its support and is keen to continue to work within our means to support success in Barrow. We recognise the importance of an event like the Love Barrow Awards, and are proud to offer our support.
Photograph supplied courtesy of The Bay Radio