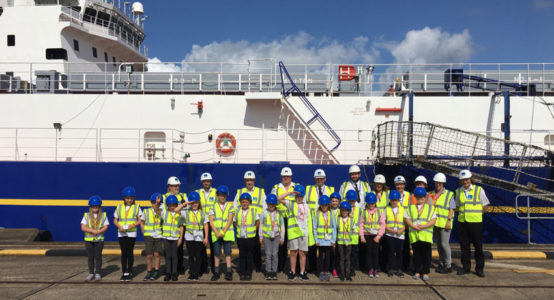 Students from the Furness area were invited to the INS Marine Terminal at Barrow-in-Furness to take a tour of two specialist nuclear ships operated by INS subsidiary Pacific Nuclear Transport Limited (PNTL).
The visit was organised as part of the Furness Future Leaders' Academy a summer school aimed at developing leadership, team work and communication skills amongst one hundred children from 26 local schools.
The leadership academy, founded by Barrow and Furness MP John Woodcock, has been supported by International Nuclear Services since it began five years ago.
Students were treated to a tour of Pacific Egret and Pacific Grebe by PNTL Captains Elston and Hadfield, and were given a talk by PNTL Second Officer Kate Allen.
Kate, who has been with PNTL for 13 years, explained the benefits a career in maritime can have for boys and girls and told the young people about her own journey in the maritime sector.
Kate said:  "The visit was a fantastic opportunity to tell the young people about the exciting, rewarding and varied opportunities that maritime careers can offer – many of them right here on their doorstep in Barrow.
It's always exciting to see children's enthusiasm for ships and maritime, and I hope today's visit will inspire them to consider a future career in the industry."
The children, who were part of the "IT Crowd", have been working on their campaign "Litter-ally stop it" throughout the three week summer school, and presented their posters to the Captains and INS staff.
Group Leader Hannah Croskery said "The children (and I) had a great time and some of them were particularly inspired to consider a career at sea. One of the girls said it was the best day she has had all summer and can't wait to go to college and come back and work with you all".
INS and PNTL are part of the Nuclear Decommissioning Authority and have been based in Barrow for over 40 years during which time they have grown into the world-leaders at shipping nuclear materials. Operating four specialist nuclear vessels they employ around 170 crew members, many of whom started as cadets in the local area.
INS and PNTL have long supported schemes that inspire young people to seek a brighter future in the local area. In particular they are committed to promoting gender balance in both the nuclear and maritime sectors and are signing up to the Women in Maritime Pledge which makes clear their support for creating positive change within the organisation and across the UK maritime sector.
Kate said:  "It was encouraging to see a mix of boys and girls at today's visit and have the opportunity to impress upon them that careers in the nuclear and maritime sectors offer great opportunities for people from all genders and backgrounds."