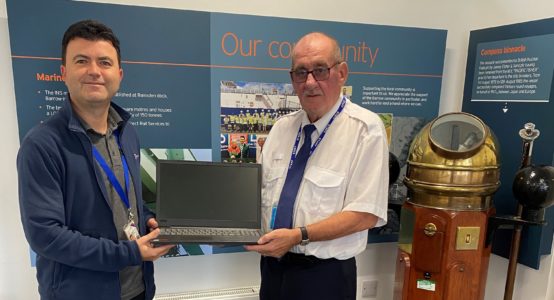 Recycled computer equipment from two Pacific Nuclear Transport Ltd (PNTL) vessels has been donated to Barrow Sea Cadets.
In total, 21 PCs and monitors, 8 laptops, 2 UPS units, as well as keyboards, power supplies, connectors, and mice from on board Pacifics Heron and Egret have been received by the youngsters.
Rob Wood, manager of Nuclear Transport Solutions's (NTS) marine terminal at Barrow-in-Furness, was on hand to present the equipment to Ian Gerrish from the Sea Cadets.
NTS is part of the Nuclear Decommissioning Authority and operates the specialist PNTL vessels from its Ramsden Dock base.
The donation was organised by John Alexander, NTS's Technical Support Project Manager, who said: "It's important to support our local community, and a donation like this to a fantastic organisation like Barrow Sea Cadets, is part of that.
"Barrow Sea Cadets offer a tremendous place for young people to develop a whole host of life skills, and to gain confidence so we know they will put this equipment to great use.
"This donation was driven by the PNTL crews, and we are all delighted to make this happen."
Mr Gerrish, who has been treasurer of the Barrow Sea Cadets for 20 years, added: "The Covid-19 pandemic has affected us badly so this equipment will be used to help children find their confidence now that life is very slowly returning to a new kind of normal.
"We will encourage our cadets to use the equipment and to develop their skills. We are very grateful to PNTL for donating this equipment."