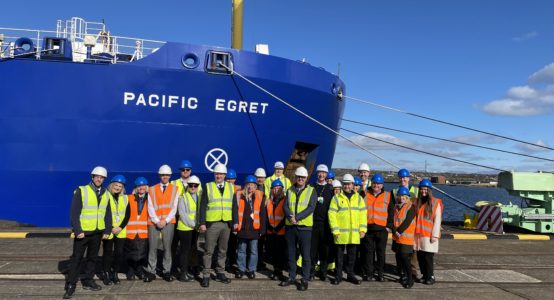 Following a successful handover period AW Ship Management has today become the new provider of ship management services for the Nuclear Transport Solutions (NTS) fleet of specialist nuclear cargo vessels.
NTS and AW Ship Management signed the contract, which will see AW provide technical and crew management services for PNTL's three vessels and around 130 seafarers, in December 2021.
Since then, the AW team has worked closely with NTS to transition all the necessary activities and achieve sign-off of key safety and security requirements from the UK maritime regulator, the Maritime and Coastguard Agency.
Peter Buchan, NTS Shipping Director, said:
"Today is an important day for NTS's unique shipping capability and our continued commitment to providing safe, secure and reliable nuclear shipping solutions to the Nuclear Decommissioning Authority (NDA), and our customers in Japan and around the world. The NTS and PNTL teams are looking forward to working closely with AW Ship Management in taking our shipping capability forward to deliver a long and successful future."
AW Ship Management take over from Serco, who have been the provider of ship management services since 2012. Peter added:
"We are very grateful to Serco for the ship management services it has provided over the last 10 years. We've shared some fantastic achievements in that time and together our crews and shoreside teams have maintained a strong track record for safe and secure shipping operations throughout this period."
AW Ship Management draws on over 100 years of experience in the marine industry providing services to vessel owners across the UK public sector and commercial shipping markets. They will retain a base in Barrow-in-Furness, which has been the home port of the Pacific Nuclear Transport Ltd (PNTL)-operated vessels, for over 40 years.
Paul Trudgeon, Managing Director of AW Ship Management, said:
"We're delighted to be taking over ship management responsibilities for the PNTL fleet today. Our experience and expertise are well suited to the needs of these unique vessels and we are looking forward to supporting the NTS team in the safe and efficient delivery of their services in the coming years."
NTS is part of the NDA group and is the majority shareholder of PNTL. The ship management contract covers all technical and crew management services for PNTL's three specialist nuclear vessels and around 130 seafarers.